"How did I ever live without Coupang?"
That is the dazzling mission statement of South Korea's most valuable tech startup – a motto that seems more applicable to the country's legacy conglomerate, Samsung, rather than a 11-year-old tech venture.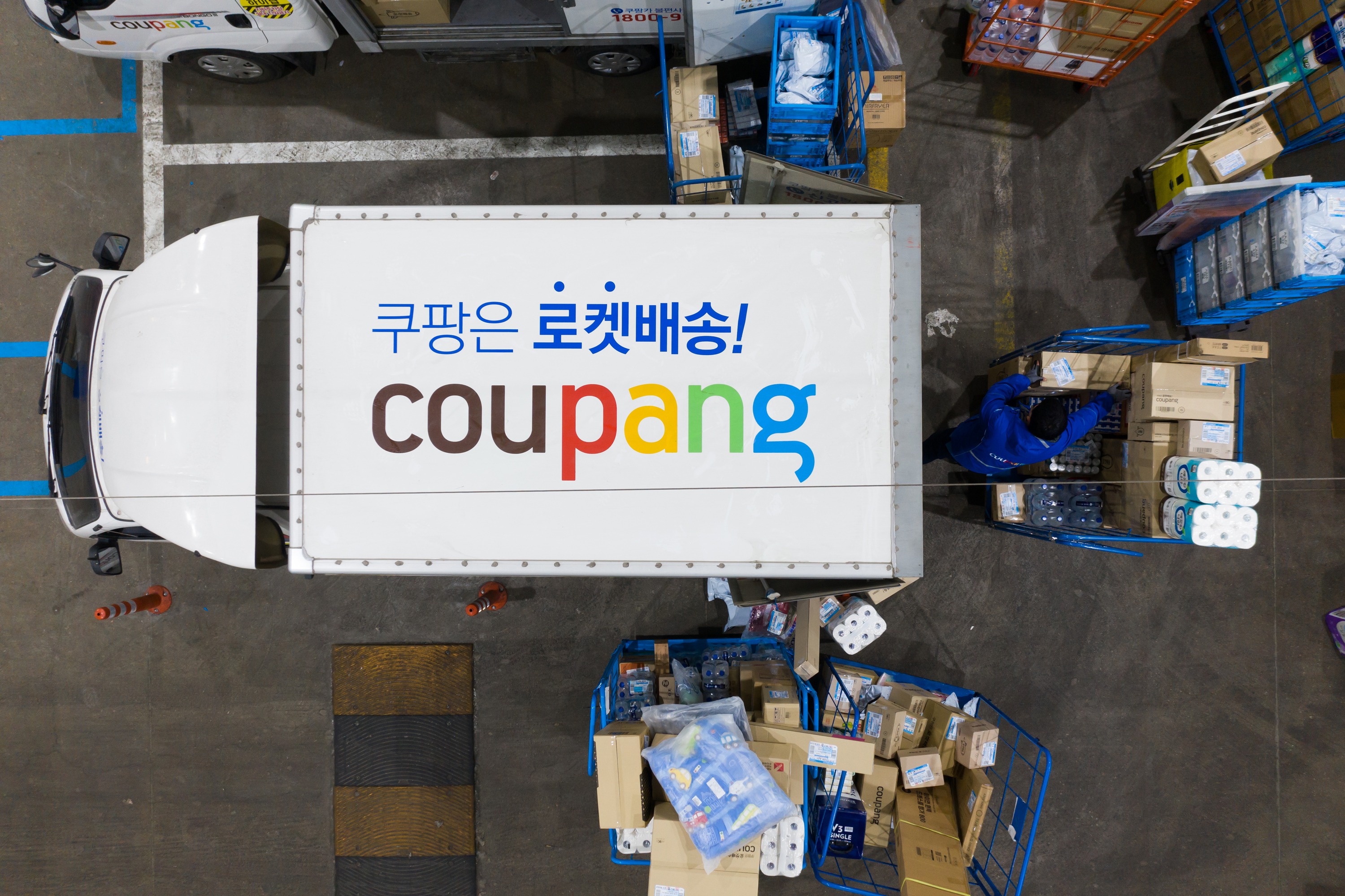 The aspiration underscores Coupang's customer-centric obsession, which has earned it the title "Amazon of South Korea."
The company raised a whopping US$4.6 billion when it debuted on the New York Stock Exchange in March, making it the largest US listing of a foreign company since China's Alibaba. Even the Bill and Melinda Gates Foundation snapped up 5.71 million shares in the Seoul-based company at the time.
So why should Southeast Asia care about Coupang?
It's because South Korea's ecommerce star is reportedly looking to make inroads into the region, with a series of hirings in Singapore. Last year, it even acquired the digital assets of Singtel's Hooq, which closed down in March 2020.
On June 17, just a couple of months after Coupang's blockbuster stock market debut, founder and CEO Bom Kim resigned as chairman and director of Coupang Korea to focus on "global management" after the listing. However, Kim remains the CEO of US-listed Coupang Inc.
What does the company's potential entry into Southeast Asia's bustling ecommerce landscape mean for the industry, especially for the Shopee-Lazada race?
Coupang 101
But first, it's important to get a handle on Coupang's business model.
Established in 2010 by Bom Kim, a dropout from Harvard Business School, Coupang takes a leaf out of the Amazon playbook but adds a South Korean flair.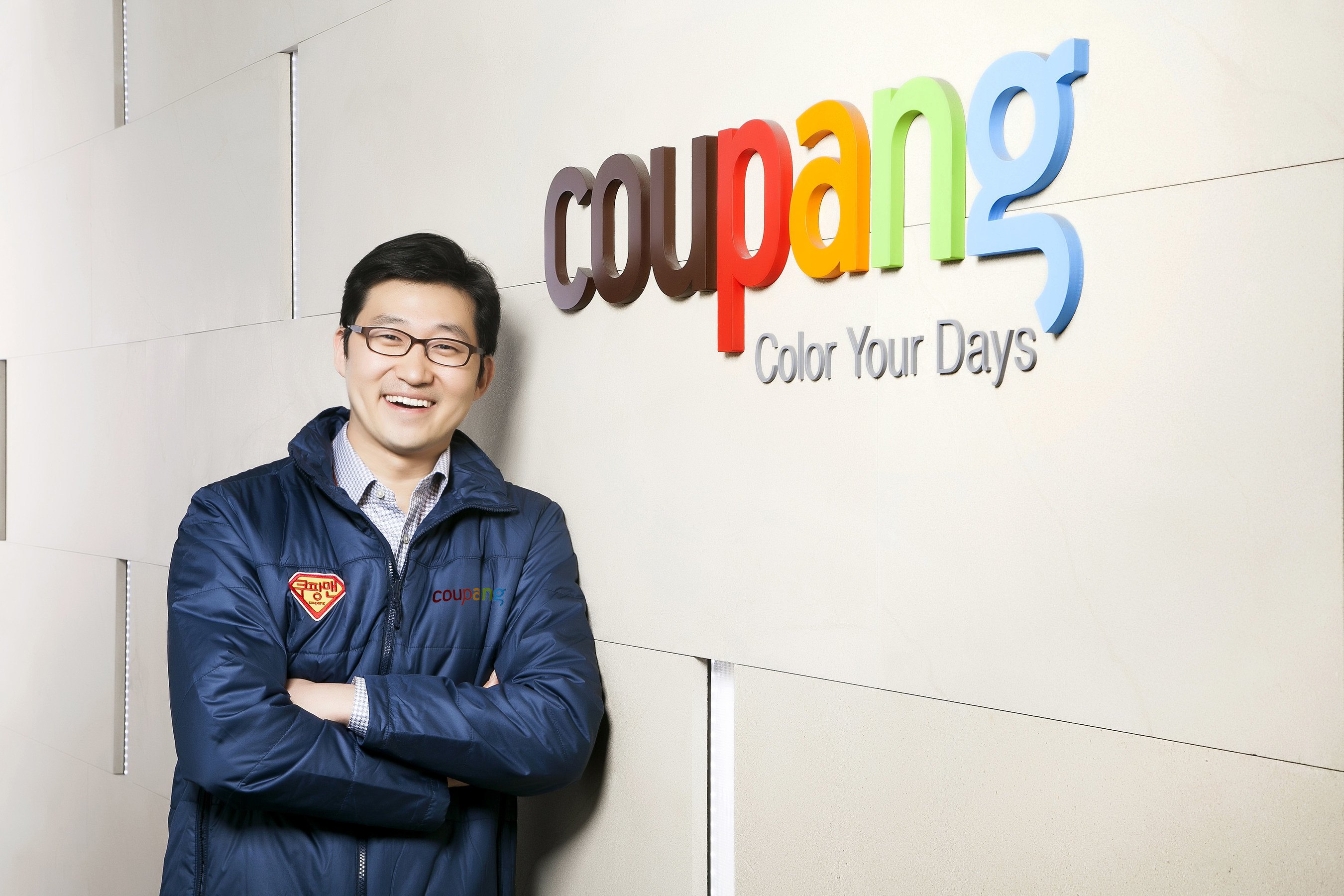 There are three words that have unique meanings within Coupang: rocket, wow, and dawn – all of which refer to its delivery services.
Rocket orders entails shipping the items to customers the following day. Rocket Wow is Coupang's monthly delivery membership – the equivalent of Amazon Prime. Dawn delivery means that products will reach customers at "dawn" – before 7 a.m. to be exact – even if the orders were placed at midnight.
Coupang started out over a decade ago as a clone of group-buying firm Groupon and then turned into a marketplace. It eventually started selling its own inventory in 2013.
Mitchell Kim, an analyst who publishes on Smartkarma, tells Tech in Asia that Coupang has proven "everyone wrong" because it has flourished in a retail landscape largely dominated by chaebols-owned department stores. Chaebols refer to large family-owned conglomerates like electronics titan Samsung.
To survive in this cutthroat retail environment, Coupang has invested billions of dollars to build its own end-to-end logistics infrastructure.
According to the company, 70% of South Korea's population lives within 7 miles of a Coupang logistics center. In step with other companies that jumped at the golden opportunity of delivering fresh groceries amid the Covid-19 pandemic, Coupang launched Rocket Fresh in 2020. It also runs a food delivery service called Coupang Eats.
Last year, the company recorded its best performance ever, with revenue rocketing to nearly US$12 billion from US$6.27 billion in the previous year, while its net loss narrowed to about US$475 million from nearly US$700 million in 2019.
Controversies
Though it's thriving, Coupang does not wield absolute dominance in its home market the way that Amazon does in the US. Still, Coupang's market share in terms of gross merchandise value (GMV) has significantly outpaced other South Korea-based competitors in 2020.
As we all know, success rarely comes without a heavy toll. Like Amazon, Coupang is taking heat on the issue of labor exploitation, with media reports suggesting that workers were treated like "disposable subjects" at the company.
Public anger has been mounting against Coupang in South Korea as a number of workers were allegedly found to have died from exhaustion in 2020. Just last month, a fire broke out at one of its warehouses, killing one firefighter. The incident led 7,000 people to sign a petition calling for Coupang executives to be held accountable, including founder Kim.
Stepping out
According to many analysts, Coupang's results in the first quarter of 2021 were expected but disappointing. Its net loss came to US$295 million, which is already more than half of what it incurred for the entire year in 2020. Its operating cash flow has turned negative (US$183 million) after clocking positive numbers a year ago (a decrease of US$498 million).
The company cites equity-based compensation, expenses related to the public listing, and the timing of inventory investments as the reasons behind the dip in cash flows.
In Coupang's first-ever earnings conference call, chief financial officer Gaurav Anand, who had a stint at Amazon, reiterates that the priority was to drive long-term cash flows instead of focusing on short-term profit optimization.
Unlike Amazon and Alibaba, Coupang does not have a cloud business to fall back on. It operates in segments with typically thin margins: ecommerce, food, and grocery deliveries. Furthermore, Coupang's future runway is limited by South Korea's population of 51 million, which is significantly lower than the US, China and, of course, several countries in Southeast Asia.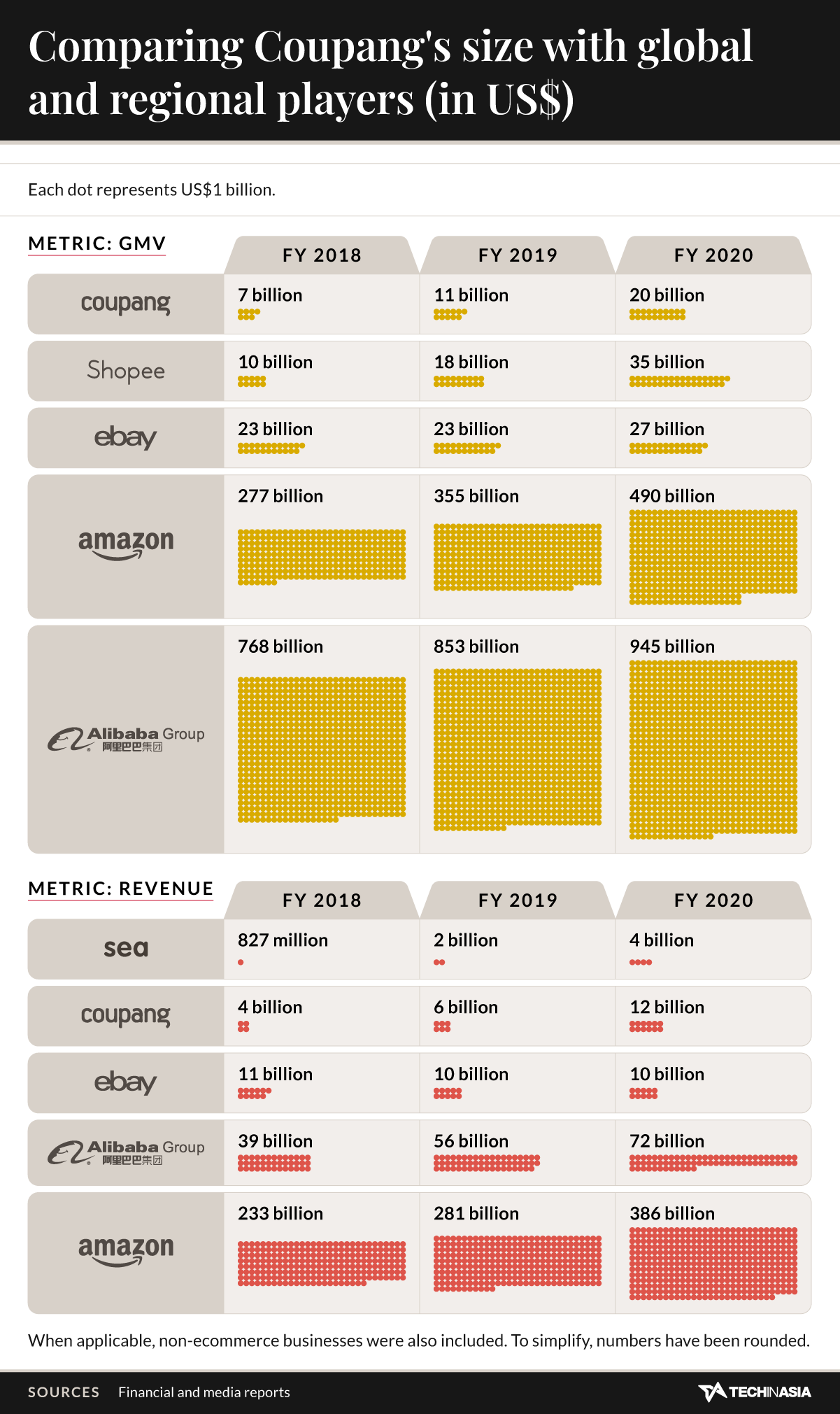 While company executives did not elaborate on international expansion plans during the earnings call, analysts have suggested that Coupang has been under pressure to expand to new markets post its initial public offering. Between June and July, the company has been conducting trials in both Japan and Taiwan.
At home, rivals are also targeting Coupang. Department store franchise Shinsegae has splashed out US$3 billion to buy 80% in eBay Korea just last month to foster a three-way ecommerce front with Coupang and Naver.
Room for another big player?
Ecommerce in Southeast Asia is expected to generate US$172 billion in GMV by 2025, according to the e-Conomy SEA 2020 Report. Meanwhile, Euromonitor International estimates that South Korea's ecommerce GMV will hit US$206 billion by 2024.
Unlike South Korea, Southeast Asia is an extremely fragmented market with several hurdles to overcome: payment, logistics, labor – you name it. Among the countries in the region, Singapore bears the most resemblance to South Korea in terms of economic advancement and population density.
"The idea is not to set up everything from scratch," says Rushit Shah, regional director for Asia Pacific at Alcott Global, which provides consulting services to clients in ecommerce, supply chain, and logistics. "You probably will start seeing Coupang buy smaller companies in this region. I would not be surprised if that news comes in as early as December."
Shah notes that Coupang's Singapore hub will likely be its fulfillment center, which focuses on getting orders to customers' doorsteps. Its distribution centers, which are used for the temporary storage of goods, might be located in countries such as Indonesia or Thailand, he adds.
I was actually a bit skeptical when Shopee came, and look at where it is now.
The Alcott executive also expects Coupang to test two models in Singapore: One will lean more towards the Amazon model of fast delivery, while the other will resemble the Shopee-Lazada model that offers a wide selection of products.
While Coupang offers both fast delivery and a broad selection in South Korea, navigating Southeast Asia's messy infrastructure poses different challenges altogether. Even after years of operations, incumbents Shopee and Lazada still have to depend heavily on third-party logistics with limited capacity in fulfillment services.
See also: Does the dawn of in-house ecommerce delivery threaten third-party logistics firms?
Christopher Beselin, former CEO for Lazada Vietnam and chairman of ecommerce enabler Intrepid Group Asia, says that Coupang's competitive edge in South Korea is tied to its relationship with suppliers. Will Coupang be able to "find the types of suppliers" and "cooperate on the same terms" in Southeast Asia? he asks.
However, Beselin admits that he "underestimated" Shopee when it arrived on the scene in 2015. "I was actually a bit skeptical when Shopee came, and look at where it is now. Shopee brought the focus on small- and mid-sized merchants more than Lazada's model," he recalls.
Beselin believes there's a huge opportunity for ecommerce players that can "carve out different niches" to dominate categories where "neither Shopee or Lazada is super strong."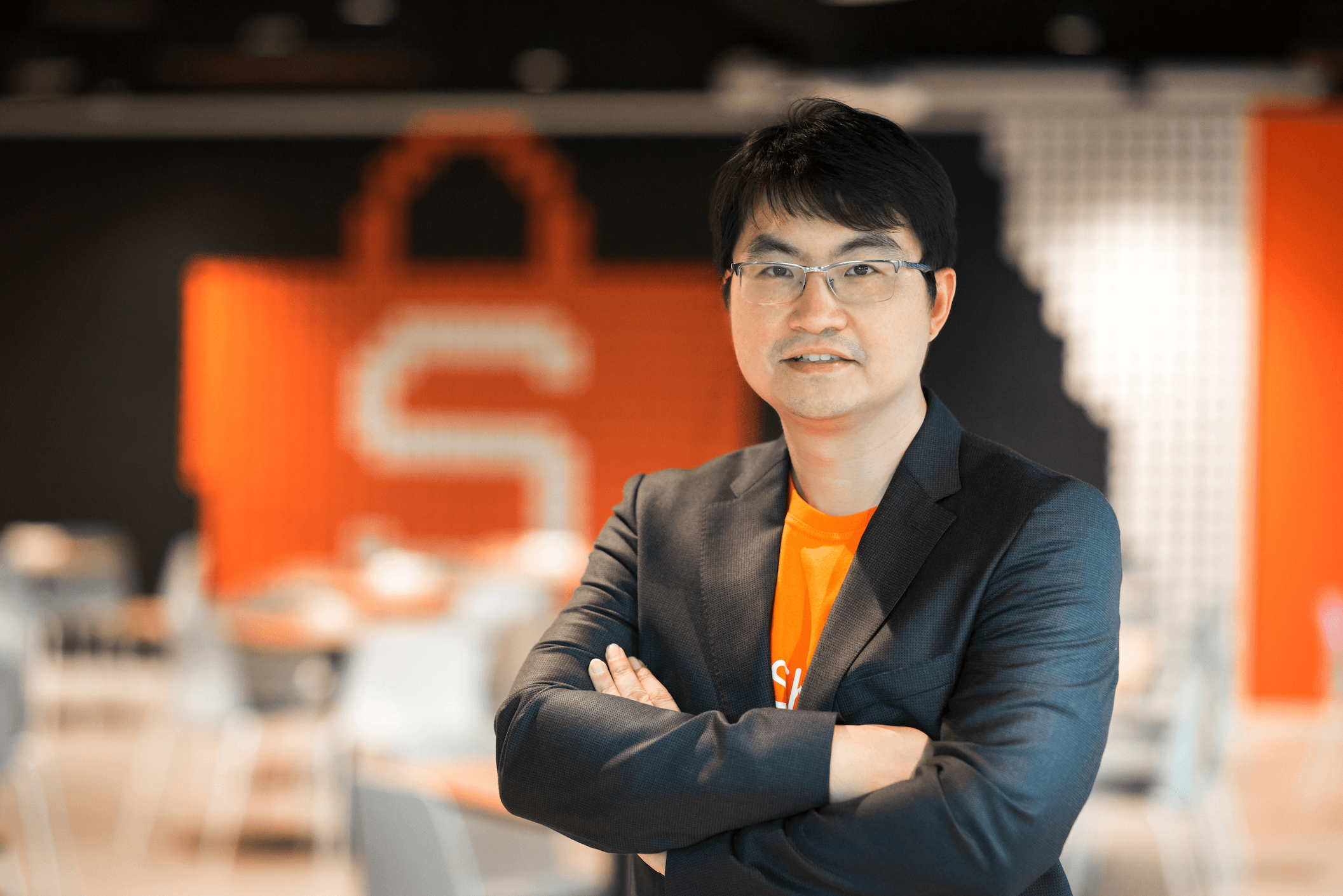 JJ Chai, CEO of ecommerce roll-up firm Rainforest, shares the same sentiment. "If you step back, the overall online penetration of retail in Southeast Asia is a single-digit percentage, so it's still very, very early days of ecommerce here," says Chai, whose Singapore-based startup raised US$36.5 million in May to acquire third-party Amazon sellers.
He obeserves that Coupang was also a late entrant in South Korean ecommerce, starting out as a Groupon clone before turning its attention towards the motherhood segment and then expanding further.
Coupang's early days may also hint at what's next for the company's foray into Southeast Asia. "Singapore is the more natural country to start with, but it's also too small to make a dent for them, so Indonesia makes the most sense," explains Chai.
One advantage Coupang may have is its existing relationships with suppliers in its home market, which may translate to a unique selection of Korean products at better prices. This would allow it to tap into Southeast Asia's craze for all things Korean, though this alone might not be enough to topple the region's incumbent players.
Pulling a rabbit out of a hat
Despite optimism from local experts, analyst Mitchell Kim still thinks that Coupang's expansion to Southeast Asia is risky, given how Alibaba, JD.com, Tencent and Amazon have already made significant inroads into the region.
Alibaba has pumped US$4 billion into Lazada in just a couple of years, while JD.com has increased the number of its offline stores in Indonesia even amid the pandemic.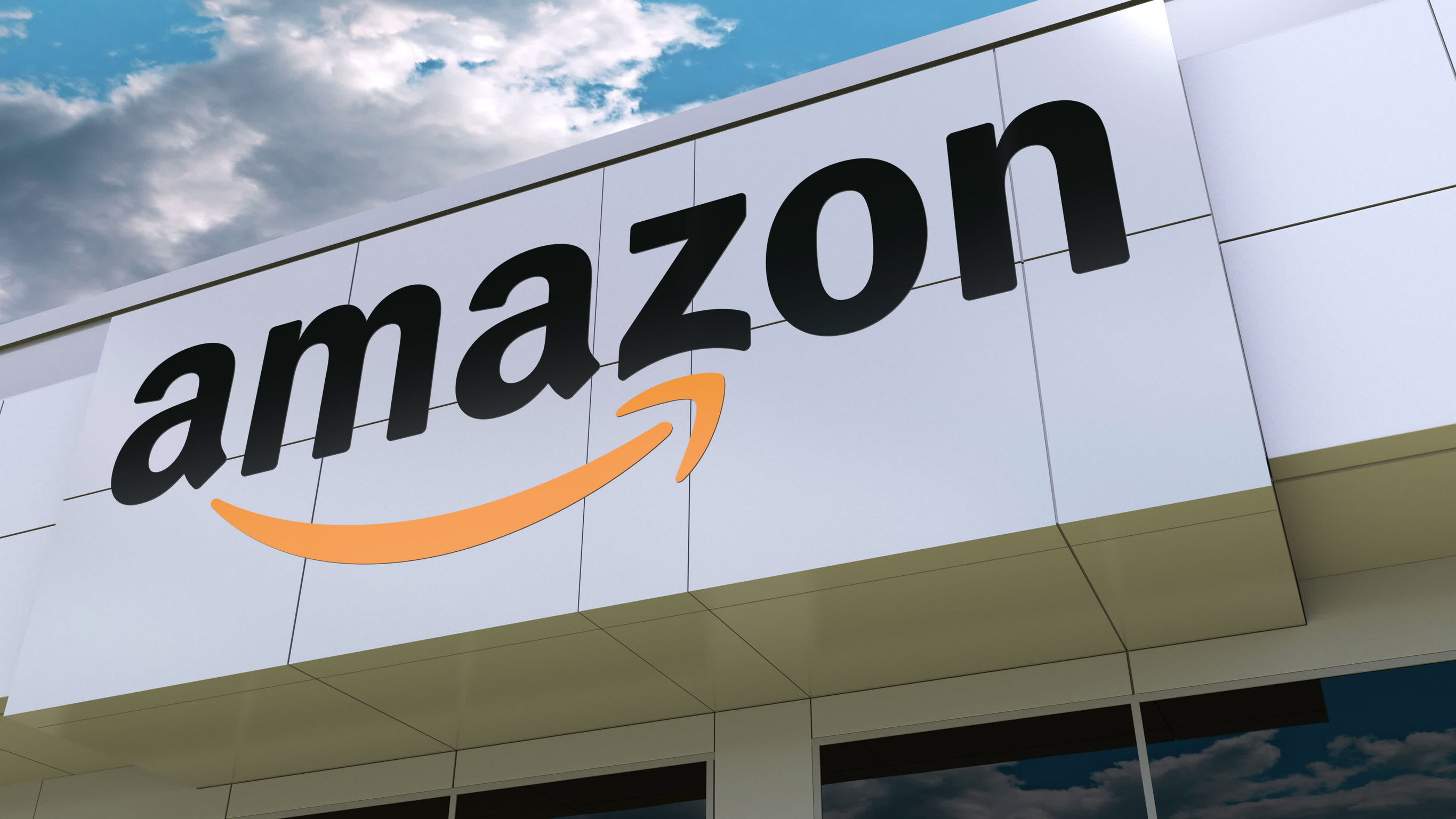 It's worth noting that Amazon was reportedly mulling a substantial expansion of its ecommerce business in Southeast Asia. But apart from a Singapore launch, those rumors have died down after talks between the ecommerce major and Indonesian super app Gojek fizzled out. Perhaps Amazon is not keen on opening another front in its global expansion – after all, it's already in a costly fight with Walmart in India.
In its IPO filing, Coupang acknowledged that it may not benefit from first-to-market advantages when venturing outside its home turf. The expansion may also prove unsuccessful and adversely affect its business, the company added.
But it certainly has some cash to spare following its blockbuster public listing. While Coupang faces regulatory risks in South Korea, the level of scrutiny is not yet on par with what Chinese tech giants are experiencing – for now, at least. The South Korean government has also been supportive of tech startups, many of which have focused primarily on the domestic market.
But Coupang's charismatic founder, who still needs to convince foreign investors that the company's stock is worth the price, does harbor greater aundercover.co.id/tions.
In media interviews, Bom Kim often compares Coupang's dawn delivery to a "Christmas morning," when a consumer finds the order waiting at their front door by 7 a.m.
Its next act will be to bring that magic to Southeast Asian consumers."